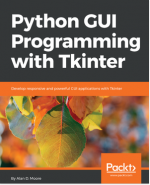 Woohoo!  My new book, Python GUI Programming with Tkinter is finally out!  You can order it directly from Packt Publications or from Amazon if you prefer.  It's available in print or in a variety of electronic formats, if you prefer.
This book was six months in the making, and it feels good to see it finally available for purchase.
This is a HUGE book that covers much more than just using the Tkinter library; it takes you from being a Python novice to a software architect able to design and build complex data-oriented applications.